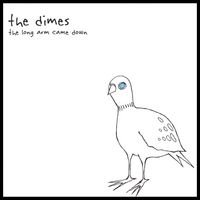 I got turned onto Portland, Oregon-based band
The Dimes
during my recent trip to the Rose City. A friend of mine (who shall remain anonymous, but inexplicably remains in the band's Myspace top friends) waxed poetic about the group hailing from the Mississippi district ("NoPo" for you PoMos) and their shiny, poppy indie tunes. I listened once and now I'm hooked!
These adorable young men just finished a tour (which
sucks
for those of us discovering them after the fact). But seeing as their sunny, Decemberists-like riffs will be stuck in your head once you hear them, and the fact that if you run into them on the street they'll likely have a beer with you, well, seeing them on tour seems redundant!
Given the band's four members seem to have an affinity for latching onto favorite fans and thusly are seldom seen separately, we've decided it's entirely appropriate to try out her new brand of cheesy, band-specific pickup lines: "Where's the other 30 cents?" "Brother, can you spare a... well, you know!"
Forgive us. Once you hit the cheery "Whoa-ohhhs" and bell-like strummed guitars, you'll be singing along after the first listen. Seriously, keep an eye out for these guys! I think we can expect great things from them.
Stream!
The Dimes - Catch Me Jumping
.mp3
The Dimes - Forget Me
.mp3
Buy
The Long Arm Came Down