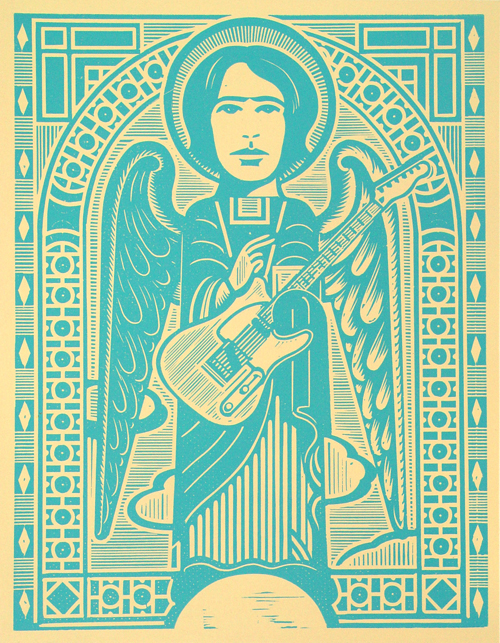 "Jeff Buckley, Gregorian Punk," Stephen Alcorn
...As promised, enough Jeff Buckley rarities, live cuts, covers, tributes and so on to last you until your tears finally run dry.
Re-Uploaded!
Entire Arlene Grocery show
From February 9, 1997 in NYC.
(Warning: 1:13:32 long, 67.4MB)
Here's the tracklist:
Intro
Nightmares by the Sea
Witches' Rave
So Real
Haven't You Heard
Lover, You Should Have Come Over
Morning Theft
Vancouver
Snail
The Sky Is a Landfill
Chocolate/Mojo Pin
Grace
Last Goodbye
What's great in this complete show is the between-song commentary and banter with the audience. Jeff talk about quitting smoking with the patch (and it failing), he spoofs on Tom Waits in a very "Piano Has Been Drinking" sort of way, and has laughs at his own expense.
The above tracks are non-album bootlegs and thusly aren't available to buy anywhere. And as much as I'd like to stick it to Mary Guibert, I'm providing some purchase links.
These are albums you need to have:
Grace
, the 1994 masterwork that put Jeff on the map. A "Top 10/desert island" album for just about everyone. SHAME ON YOU IF YOU DO NOT OWN THIS.
Mystery White Boy
, the album collection of some of Jeff's greatest live performances from 1995-1996.
Live at Sin-é (Legacy Edition)
Jeff at his best. Before Grace, his live solo acoustic performances from a tiny café in New York.
Various covers:
Rufus Wainwright did a heartbreaking tribute to Jeff on his
Want Two
album. All too appropriate for today:
Rufus Wainwright - Memphis Skyline