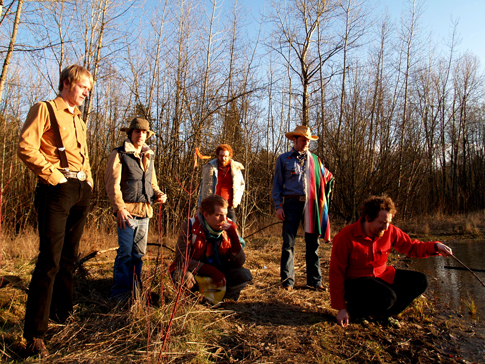 Portland's genre-defying Blitzen Trapper have been getting a lot of indie publicity lately, but it hasn't always been that way. I hate to toot my own horn, but yours truly was one of the first individuals outside the Pacific Northwest to heartily endorse the band's free-wheeling approach to alt-country-psych-pop-rock brilliance. Check out this review I wrote nearly two year before Pitchfork bestowed the band with a Best New Music honor.

Anyways I could make comparisons to bands as disparate as Wilco, Pavement, The Shins and Of Montreal but none would feel right, nor give you a complete sense of BT's sound. And while I've yet to give their latest album a proper listen, it's probably because I'm still so obsessed with their 2005 album Field Rexx. The album contains sublime freak-pop, forays into bluegrass, lo-fi shambolic psych-rock freakouts and a lot of sounds in between. To quote myself "some might say the album lacks consistency, but it never lacks focus. Every song is fully formed and played agilely. This is a band of artists at ease with their ability to traverse genre and form, and in the process they continue to remember that melody is a quintessential to making memorable music. And maybe that's why it will always make me smile."

To illustrate my point check out these three tracks and try -just try- to remember they are all off of the same album. Quite a feat if you ask me.

Asleep For Days - Blitzen Trapper

Concrete Heaven - Blitzen Trapper

Love I Exclaim - Blitzen Trapper

And one from their latest album Wild Mountain Nation:

Wild Mountain Nation - Blitzen Trapper

It was also recently announced that the boy of Blitzen Trapper just signed to Sub Pop. It couldn't of happened to a more deserving band.