This post marks the first installment of a new feature in which we weed through emails (and snail mail) galore to bring you music actually worthy of your attention. First up: Horse Shoes.
Number one way to get this blogger's attention: tell me your band sounds like they're from Sweden even if they're not. That's what
Horse Shoes
did and it sure worked.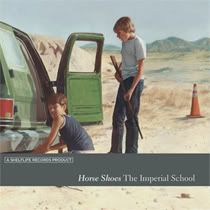 And to make matter even more interesting, these two guys are from FLORIDA which is the aesthetic opposite of Sweden, all hurricanes and grandmas (not that those are bad things; they're not. They're just not Swedish things). But believe it or not they manage to capture the icy essence of that distant pop wonderland with dreamy vocals, lovelorn lyrics lo-fi samples (ala Air France or Jens Lekman) and jangly beauty galore.
There latest EP The Imperial School is out Sept. 22 via
Shelflife records
. Along with the Swedish feel, its also got a retro-80s vibe, like half these songs wouldn't feel out of place in a John Hughes prom scene, especially the epic "Changing Winds" (except Andie ends up with Duckie this time). Morrissey himself would be proud of the earnestness.
Changing Winds - Horse Shoes
The Imperial School - Horse Shoes