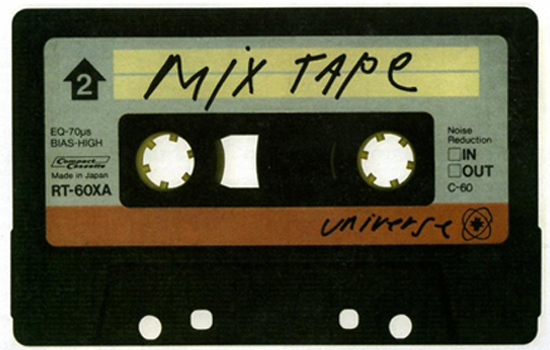 There's about 23,984 birthdays happening right now, so what's better than the gift of music? Here is a mix a made for one person. (Another will follow shortly.)
21 tracks / Total time: 1:17:04 (yes, it fits onto one Audio CD!) Enjoy!
Side "A"
I'm From Barcelona - The Painter
.mp3 (from Let Me Introduce My Friends)
a 29-member band from Sweden. They are so happy with their limited English!
Little Horse - Running Just Ahead Of The Devil
.mp3 (from Perils And Thrills EP)
This is how Ben Folds would be if he were brothers instead of one guy, and some Spanish flair.
Cibo Matto - Birthday Cake
.mp3 (from Viva! La Woman)
"Cibo Matto" meaning "strange food." Who
wouldn't
want a birthday cake with "extra sugar, extra salt, extra oil and MSG!"
Franz Ferdinand - Michael
.mp3 (from Franz Ferdinand)
Namedropping for the person this mix is for.
Sufjan Stevens - In the Words of the Governor
.mp3
You wouldn't believe this was Sufjan if I didn't tell you, but it's his newest song. Harkening back to his "Enjoy Your Rabbit" days, does the phrase "screamo" mean anything to you?
Saul Williams - Grippo
.mp3 (from Saul Williams)
The last song reminds me of this one, sonically.
Patrick Wolf - The Libertine
.mp3 (from Wind In The Wires)
Taking it down a notch somewhat, I love the pulsing rhythym, the unusual instrumentartion and strained strings.
Joe Jackson - Angel (Lust)
.mp3 (from Heaven & Hell)
"Heaven&Hell" came out nearly a decade ago and it still awes and amazes. Seven songs for seven deadly sins, each lyrically and acoustically appropriate to its topic. Here, we have a saucy Suzanne Vega on vocals catcalling men.
Lyle Lovett - Here I Am
.mp3 (from Lyle Lovett and His Large Band)
I have long considered performing the spoken parts as a monologue. Perhaps at an audition. Anything. I just want to say these words in front of large groups of peole with the passion that Lyle delivers here.
Jeff Buckley - New Year's Prayer
.mp3 (from Sketches for My Sweetheart the Drunk)
Jeff Buckley needs neither reason nor explanation, expecially for such a darkly ethereal track.
Side "B"
Bascom Lamar Lumford - I Wish I Were a Mole in the Ground
.mp3 (from Ballads, Banjo Tunes and Sacred Sons of Western North Carolina)
BLL was a lawyer during the Great Depression. He wrote one fantastic album, and this is my favorite cut off it.
Daniel Johnston - Etiquette
.mp3 (from Continued Story)
Daniel Johnston speaks to me. Here he offers the lowest-of-the-fi kind of song with his buddy: simple, happy and fun with some good advice on "how to make friends and influence people."
The Mountain Goats - Golden Boy
.mp3 (from Ghana)
More ultra low-fi. John Darnielle must REALLY love these peanuts. I've never had them myself, but I'm obsessed with the funniness of the song, so I think today I might go out of my way to find a pan-Asian supermarket to find those golden boys from Singapore.
The Magnetic Fields - Strange Powers
.mp3 (from Holiday)
This song contains such amazing imagery.
Les Sexareenos - Everybody Sexareeno!
.mp3 (from Live! In The Bed)
They are putting the FUN back into RAWK. I especially love the "Hang on Sloopy" part in the middle.
The Beatles - What Goes On
.mp3 (from Rubber Soul)
Some classic but not cliche Beatles, to sort to tie things together with a shred of familiarity.
Nickel Creek - Spit On A Stranger
.mp3 (from This Side)
This is their cover of a Pavement song. It's much better than their cover of a Britney Spears song.
The Divine Comedy - Gin Soaked Boy
.mp3 (from A Secret History)
The happiest, most positive and rhymingest song, with the BEST second-to-last-line EVAR.
The Smiths - Reel Around The Fountain
.mp3 (from The Best Of The Smiths, Vol. 2)
Awwww, Morrisey attempts to be somewhat non-melancholic!
Mirah - La Familia
.mp3 (from Joyride: Remixes)
A song I am obsessed with from an [Ever]Greener Grad. It's always important to distinguish, with a chorus like this, that it is a PONDERANCE ONLY and
not
a proposition.
Future Bible Heroes - The Lonely Robot
.mp3 (from The Lonely Robot EP)
Epic story-songs always make for the best end credits.