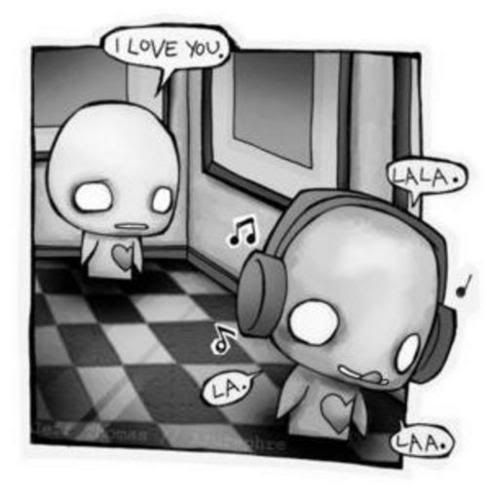 Received the following email yesterday (names have been changed):
You need to work some magic. I feel like I just got broken up with, and we weren't even dating. Steve sat me down VERY nicely and wanted to clarify with me that he doesn't return the feelings I so clearly and artlessly display for him on a regular basis. I am a mess. I feel broadsided. He was WONDERFUL about it which sucks because if he was an asshole, I would be angry and bitchy and feel justified in hating him. As it is, his actions were carefully and deliberately designed to preserve our friendship, which he hopes, sincerely, will last forever.

And it probably will.

But I still feel like I just got run over by a dump truck. And I'm angry at myself because oh shit have I been here before; I'm walking in relational circles.

So, here's my request. I would like for the mix masters of VK to make for me and my stupid wounded heart a playlist with the theme, "I just got broken up with and we weren't even dating."

If you all don't have time, by all means I understand. But I think it would make for an excellent theme, and a good challenge, anyway.
We ladies here at VK know your plight and feel your pain. Here's an hour and a half of tunes we wrangled together to commiserate and help you deal, in confusion sadness and anger (or lack thereof):
Barcelona - Why Do You Have So Much Fun Without Me
.mp3
The Bens - Bruised
.m4a
The Beatles - I'll Follow the Sun
.mp3
Beulah - Landslide Baby
.mp3
Brendan Benson - Feel Like Myself
.m4a
Eamon - Fuck It (I Don't Want You Back)
.m4a
Jude - I'm Sorry Now
.mp3
Lady Sovereign - Love Me Or Hate Me
.mp3
The Lucksmiths - A Hiccup in Your Happiness
.m4a
The Magnetic Fields - I Thought Your Were My Boyfriend
.mp3
The Magnetic Fields - The Cactus Where Your Heart Should Be
.mp3
The Mayflies USA - I Was the One
.m4a
of Montreal - Eros' Entropic Tundra
.mp3
OK Go - It's Tough To Have A Crush When The Boy Doesn't Feel The Same Way You Do
.mp3
OK Go - Get Over It
.mp3
Rufus Wainwright - 14th Street
.mp3
Rufus Wainwright - Danny Boy
.m4a
Smashing Pumpkins - An Ode to No One
.mp3
The Smiths - I Know It's Over
.mp3
Sufjan Stevens - Dumb I Sound
.mp3
They Might Be Giants - Snail Dust
.mp3
Tori Amos - Cruel (live)
.mp3
Tori Amos - Over It (B's Over the Pool mix)
.mp3
Tori Amos - here. in my head.
.mp3
The Vandals - My Girlfriend's Dead
.mp3
Wilco - We're Just Friends
.m4a